Hypoparathyroidism basics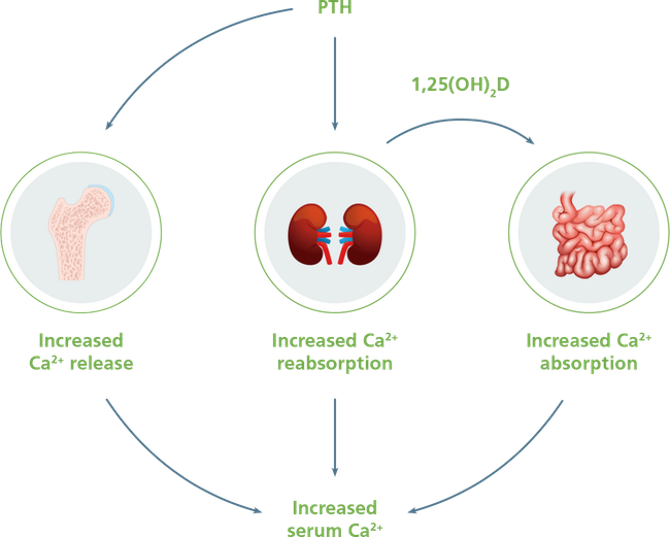 ENDOGENOUS PTH IS A MAJOR REGULATOR OF MINERAL HOMEOSTASIS*2
PTH stimulates renal reabsorption of calcium and promotes phosphate excretion.
PTH stimulates the biosynthesis of 1,25(OH)2D in the kidney which helps the body to absorb dietary calcium in the intestines.
PTH maintains normal bone mineral activity and homeostasis.
PTH stimulates the release of calcium from bones, the body's main reservoir of calcium, into the blood.
Bollerslev J, Rejnmark L, Marcocci C, et al. European Society of Endocrinology Clinical Guideline: Treatment of chronic hypoparathyroidism in adults. Eur J Endocrinol. 2015;173(2):G1-20.
Levine MA. Normal mineral homeostasis. Interplay of parathyroid hormone and vitamin D. Endocr Dev. 2003;6:14-33.
Shoback DM, Bilezikian JP, Costa AG, et al. Presentation of Hypoparathyroidism: Etiologies and Clinical Features. J Clin Endocrinol Metab. 2016;101(6):2300-12.
Underbjerg L, Sikjaer T, Mosekilde L, et al. Cardiovascular and renal complications to postsurgical hypoparathyroidism: a Danish nationwide controlled historic follow-up study. J Bone Miner Res. 2013;28(11):2277-85.
Underbjerg L, Sikjaer T, Mosekilde L, et al. The Epidemiology of Nonsurgical Hypoparathyroidism in Denmark: A Nationwide Case Finding Study. J Bone Miner Res. 2015;30(9):1738-44.
Astor MC, Lovas K, Debowska A, et al. Epidemiology and Health-Related Quality of Life in Hypoparathyroidism in Norway. J Clin Endocrinol Metab. 2016;101(8):3045-53.
Clarke BL, Brown EM, Collins MT, et al. Epidemiology and Diagnosis of Hypoparathyroidism. J Clin Endocrinol Metab. 2016;101(6):2284-99.
Powers J, Joy K, Ruscio A, et al. Prevalence and incidence of hypoparathyroidism in the United States using a large claims database. J Bone Miner Res. 2013;28(12):2570-6.
Hadker N, Egan J, Sanders J, et al. Understanding the burden of illness associated with hypoparathyroidism reported among patients in the paradox study. Endocr Pract. 2014;20(7):671-9.
Mitchell DM, Regan S, Cooley MR, et al. Long-term follow-up of patients with hypoparathyroidism. J Clin Endocrinol Metab. 2012;97(12):4507-14.
Shoback D. Clinical practice. Hypoparathyroidism. N Engl J Med. 2008;359(4):391-403.
Chatterjee S. Permanent hypoparathyroidism following radioiodine treatment for hyperthyroidism. J Assoc Physicians India. 2004;52:421-2.
Horwitz CA, Myers WP, Foote FW, Jr. Secondary malignant tumors of the parathyroid glands. Report of two cases with associated hypoparathyroidism. Am J Med. 1972;52(6):797-808.
Bilezikian JP, Khan A, Potts JT, Jr., et al. Hypoparathyroidism in the adult: epidemiology, diagnosis, pathophysiology, target-organ involvement, treatment, and challenges for future research. J Bone Miner Res. 2011;26(10):2317-37.